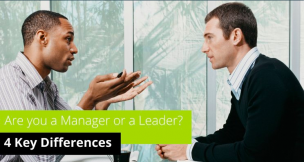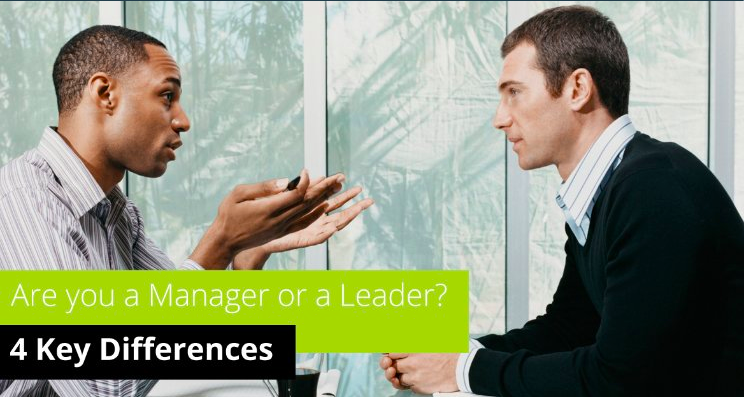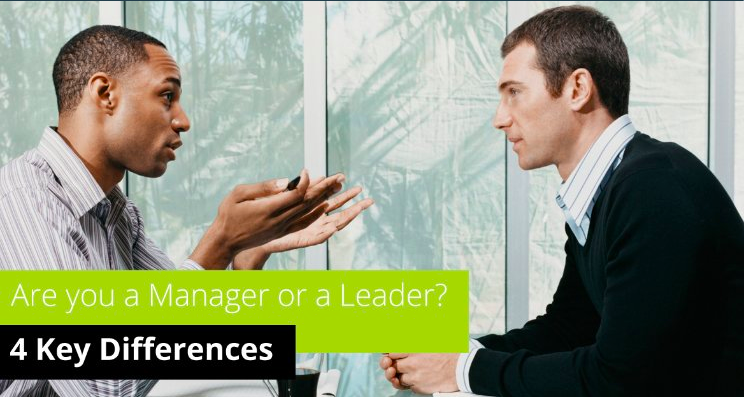 The term, "Manage" is often used to denote, "Just getting by," somehow…"we manage." I come across many managers who are purely focused, quite naturally on the urgent emerging drama of operational work. Tasks are "Managed." Tasks in the never-ending flow of the machine, seemingly without end…indeed, when will it all end? Leadership, it seems, is a nice to do, "End of day," activity.
Leadership is about more than, "Just getting by," it's an edge, a state of not only operating but of being in control, of standing up and deciding not what we will receive and but what we will give. Leading is about challenging and not just accepting, it's about standing out front.
Here are the 4 traits that determine the true difference between management and leadership:
1.      Leaders walk in front, 
they lead and others follow. This is the most accurate definition of leading. The leader determines the route, the safety of the terrain and its hazards, they have the clearest view of the territory. From that position, they enjoy the vision that the followers may not have. Leaders, therefore, must have a clear vision and the ability to articulate that vision. Managers, on the other hand, merely operate the organization's control systems.
Anyone can be a leader, a Receptionist is a leader when a visiting CEO walks into their reception. The IT guy is the leader when the company IT Systems go down. In their territory, they walk in front, visitors to that territory merely follow and it's one of the reasons that expertise is the foundation of leadership. Leaders know their terrain.
For anyone looking to improve their leadership skills, understanding the territory is a high priority. Go back 100 years and plot the evolution of your industry with each game-changing moment, find market research to show where your industry is today and then anticipate the future. Most managers have no idea how their organization evolved let alone their industry, taking their inferences entirely from current customer demand.
2.      Skill is nothing without judgment. 
The need to accurately judge a situation is key. What's possible and what's not, what constitutes a high risk, and what indeed is a low-risk. "Who dares wins," maybe, yet ironically judgment includes the need not judge other as we judge ourselves. Because I can make it doesn't, mean that others can make it too. Knowing the capabilities and limitations of your team is vitally important.
Imagine that our Manager can see a proverbial river ahead, a formidable obstacle. Battle-hardened, he knows how to traverse it, but how well can he get 10 other people to follow suit? Can he(or she) train his team with the skills needed to overcome the challenge? Can he then motivate, encourage and instill the self-belief needed to take on the overwhelming prospect of an activity that could result in their demise? Proverbial or not, if he cannot ask himself these questions and address these issues, he will not be a leader. Indeed, leadership is an essential pre-cursor to any change management initiative as it requires the judgment to ascertain the readiness of teams for the changes ahead.
An excellent way to achieve this is by using a coaching style or delegating (properly). When delegating properly, employees are given time to develop plans and ideas independently. This will quickly allow you to assess their level of thinking and judgment and gives the opportunity for employee development or, "Thinking practice," as I like to call it. Coaching and delegating build strong self-confidence in employees.
3.      Experience matters. 
Can you really understand the terrain until you've walked it? Is a map enough? Most would argue not. If you've never had to lead skeptical people through a difficult change if you've never walked that path how can you possibly understand resistance, and more importantly, your own personal limitations and capabilities? How can this be addressed without years of experience?
Training, coaching and using the right leadership style, offers a safe space to try, fail and learn. Great training programs should incorporate a level of live skill training and realistic simulation, taking the theory out of the classroom. I like to think of the glass walls of a training room as a metaphor. We require trainees to leave the training room to complete at least one live exercise, practicing the skill learned in training on a real employee. That's real experience and the leader now has 2 feet in the territory.
4.      Trust is vital.
Leaders can walk in front but who would follow someone they didn't trust. Employees need to have confidence in their manager's ability to solve problems and to plot the correct path but more than anything else, employees need to feel that their manager has their interests at heart, that he "has their back."
That is truly a difference between a manager and a leader.
Watch the video here https://youtu.be/Wr6JabwSibs
The following two tabs change content below.

グローバルリーダーシップ研究所 beyondは、日本企業のグローバル化の成功に役立つ「グローバルリーダーシップ」「グローバル人事・組織」「海外赴任・駐在」に関する情報やナレッジを発信します。

Latest posts by グローバルリーダーシップ研究所 beyond 編集部 (see all)